You did it!  You took the plunge.  You sent the email, paid the deposit and you've booked yourself a boudoir shoot!! Woohoo!!
Now the panic has set in. What am I going to wear?!?!
As all women do, you open the doors to your closet and throw your hands up in the air with a desperate "I have nothing to wear!"  But I can promise you, you've got something already in your closet that you can bring to wear for your boudoir photo shoot and I'm here to help you see all the possibilities in what you already have, and what to look for if you're planning to go shopping something new!
These are my top picks for what to wear for your boudoir photos.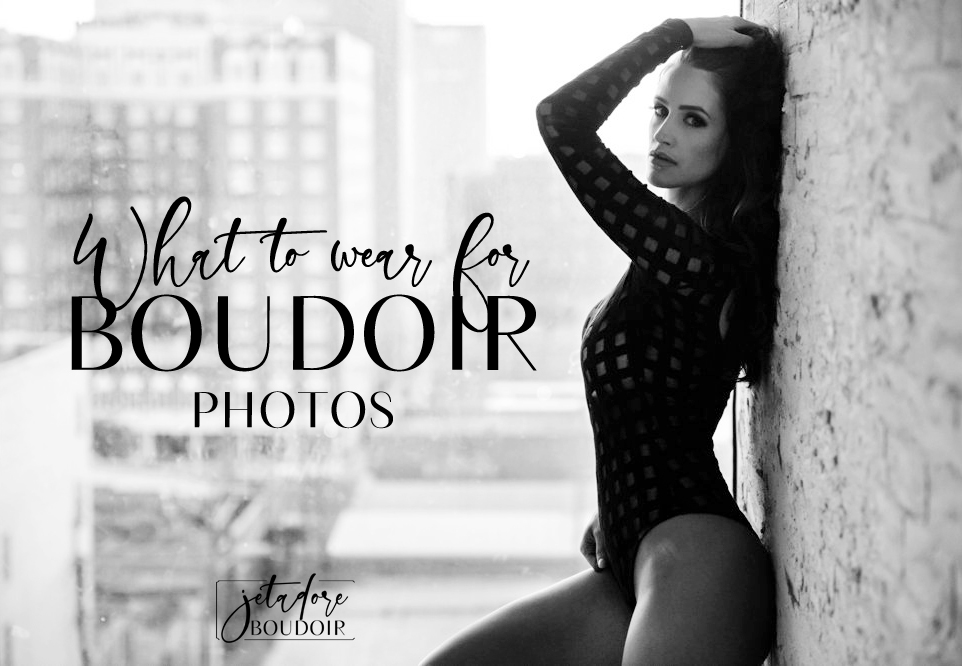 Confidence, a smile, etc. It doesn't matter what you wear if you're not into it – know you're beauty, know your worth. Work it.  And as the saying goes, even if you don't feel it – "fake it 'til you make it!"  I know what it's like to feel insecure and like a fish out of water in front of a camera!  But I promise, the more effort you put into really taking my posing direction and pushing your fears aside – the better your final photos will be!  You got this!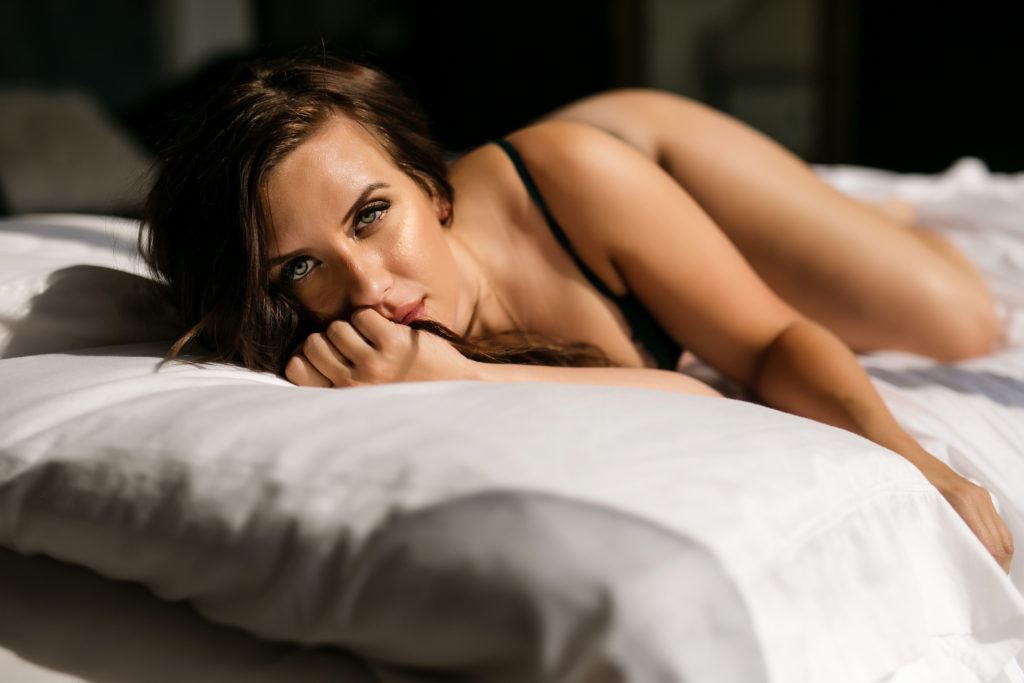 A Bodysuit! I've never seen a bodysuit I didn't like…okay actually take that back – the bodysuit needs to have some structure to it! But besides that I've never seen one I didn't like.  Bodysuits look great on all body types, they're flattering, they're sexy and they're DIFFERENT from what you wear on a day to day basis (am I right?)  That's what makes them so interesting for boudoir photos.  I've had clients wear everything from one piece swim suits, to the old school bodysuits that are making a comeback that you wear with your jeans and they snap at the crotch! LOL, to the real deal "teddy" (which is just the fancy lingerie term for a bodysuit)  Don't have one of these in your closet already? Go get ya one!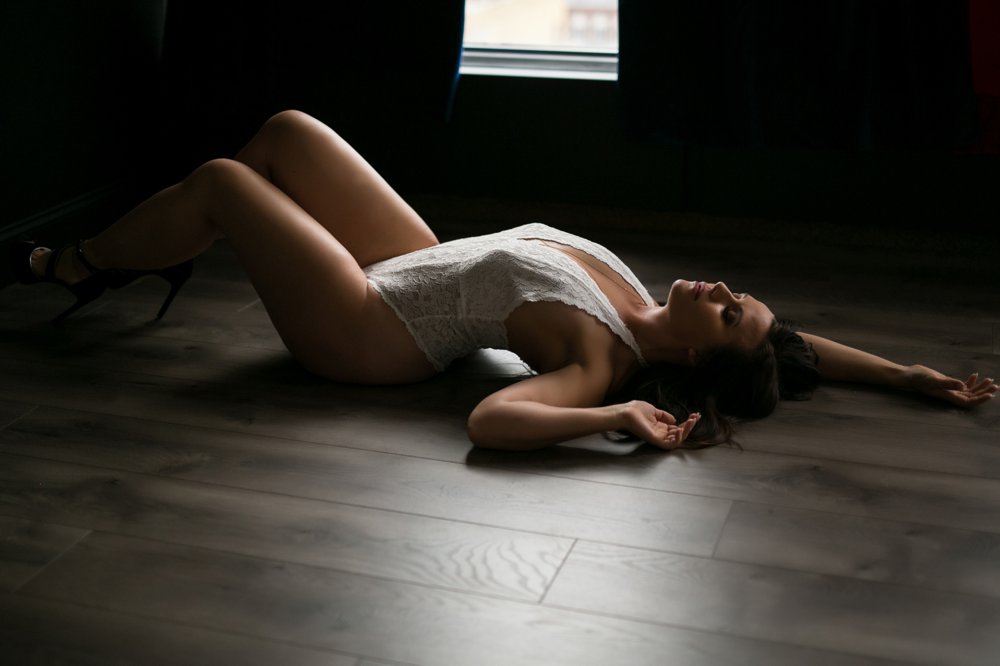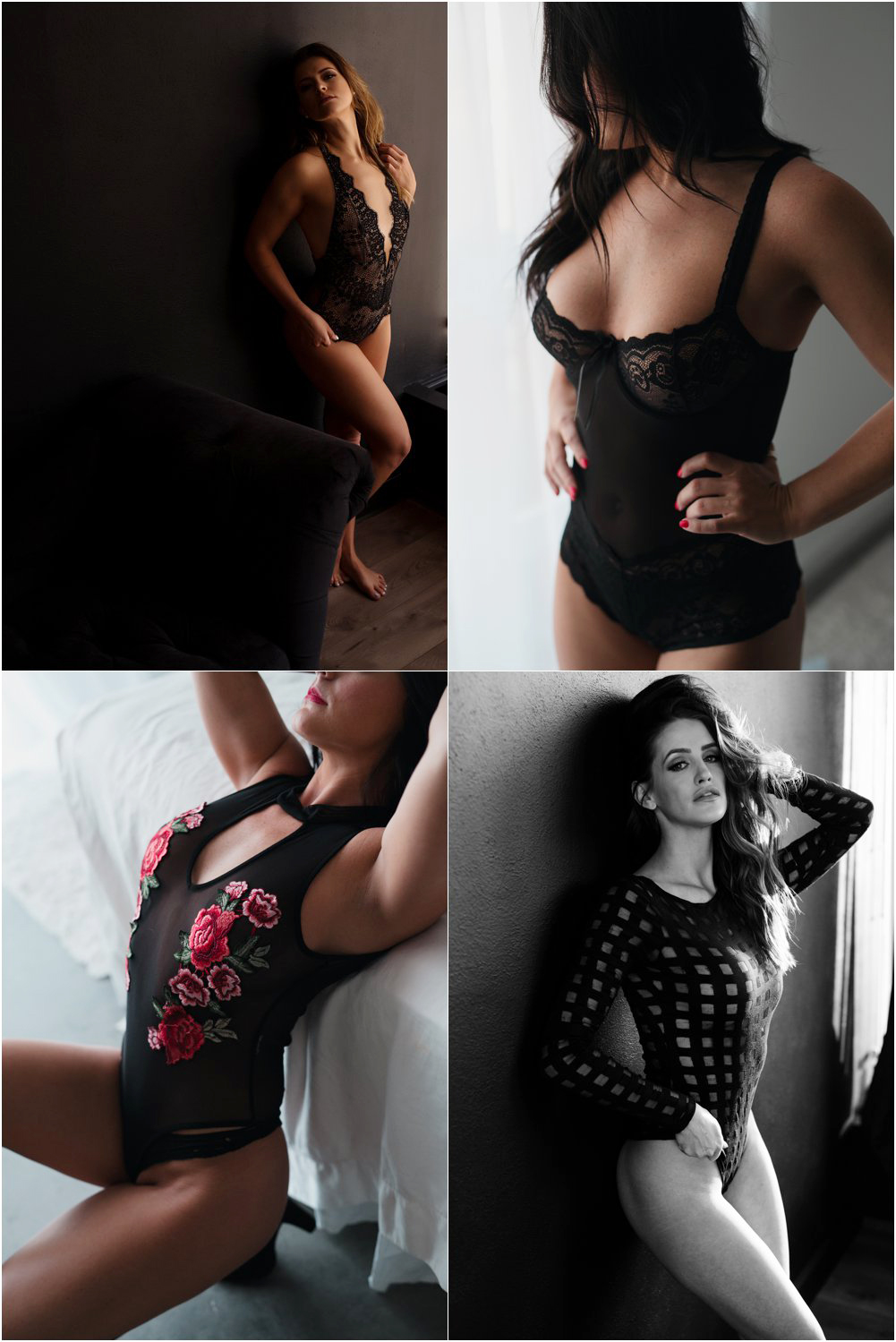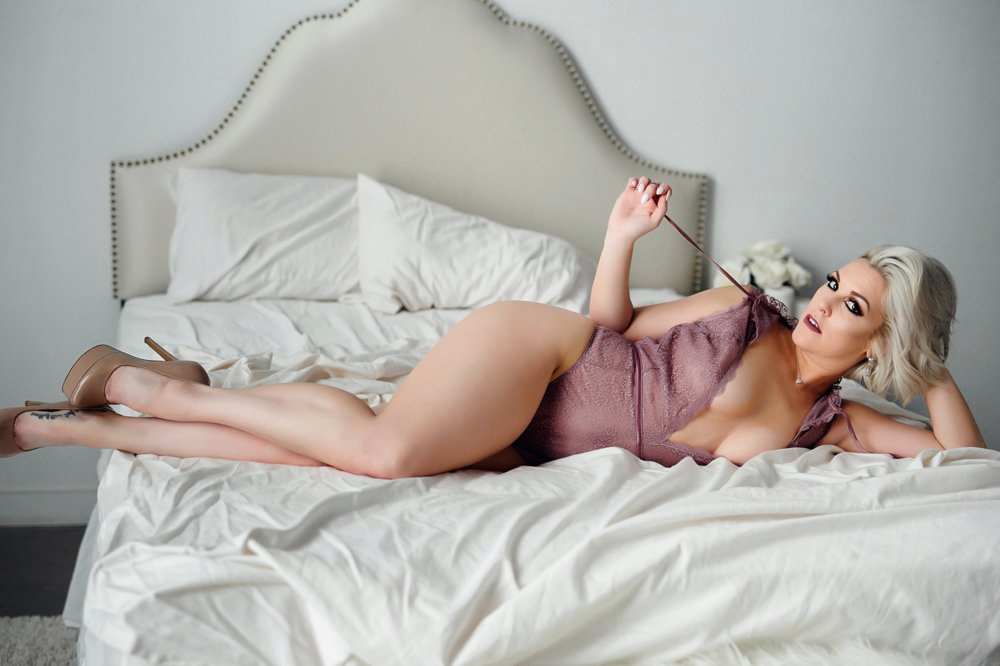 Classic boudoir at it's finest is the full on matching bra, panty, garter belt, stockings and heels.  If you can imagine a movie where the lead actress is going to show up at someone's house unannounced wearing nothing but a trench coat and something sexy underneath – this is what I picture.  It's classic. It's sexy. It looks like you tried. It's never gonna go out of style. You simply can't go wrong here!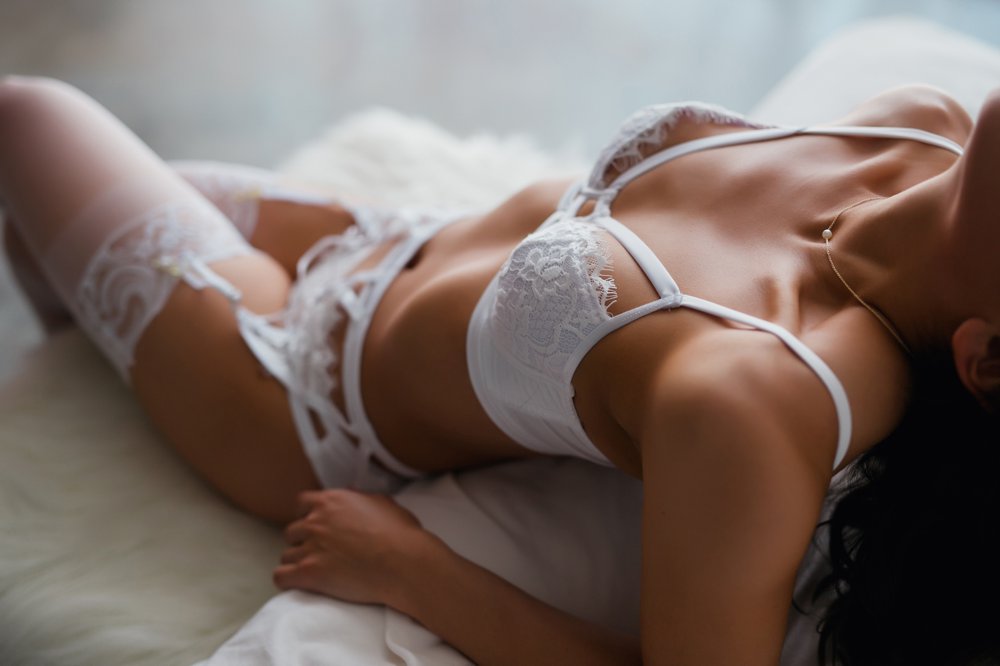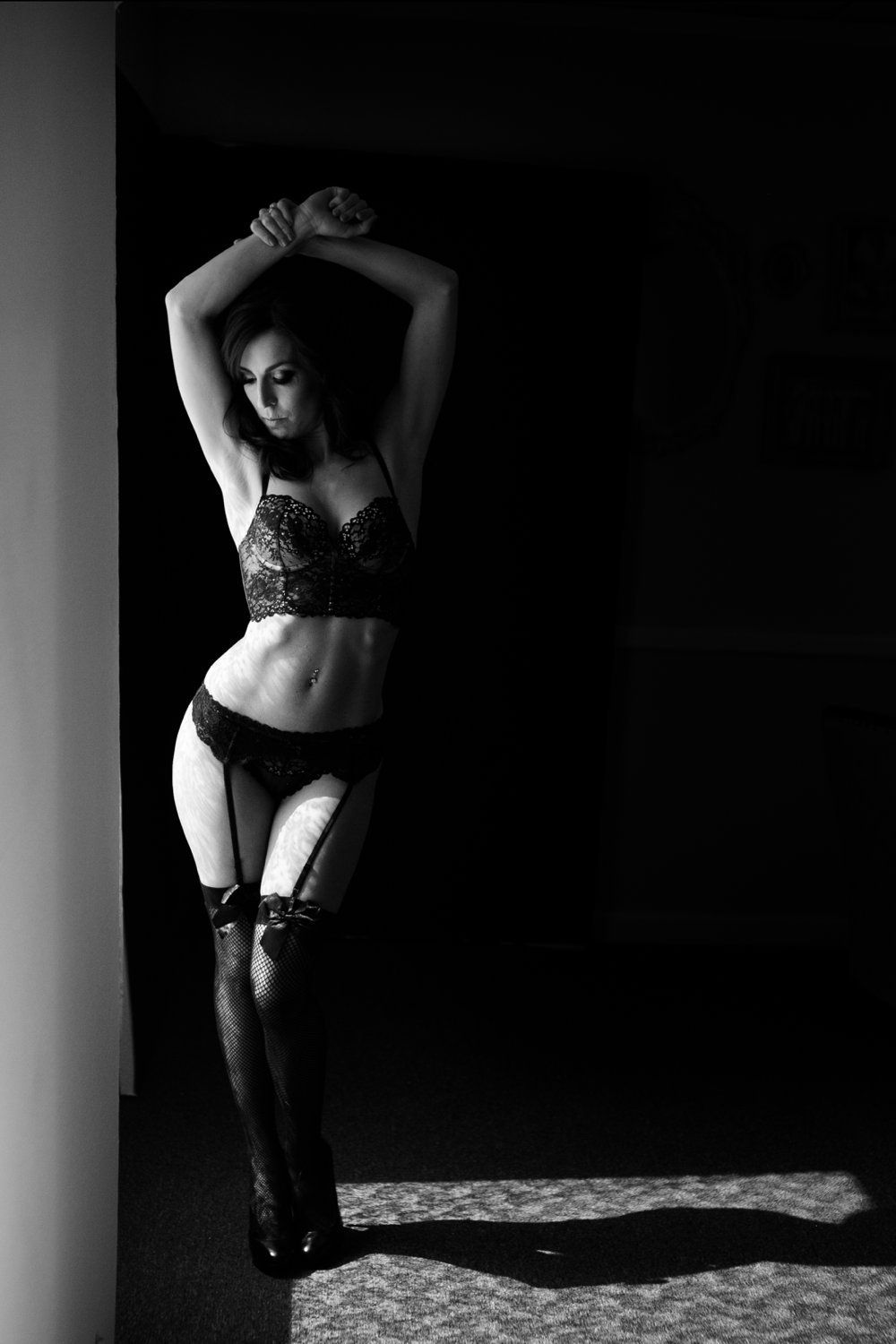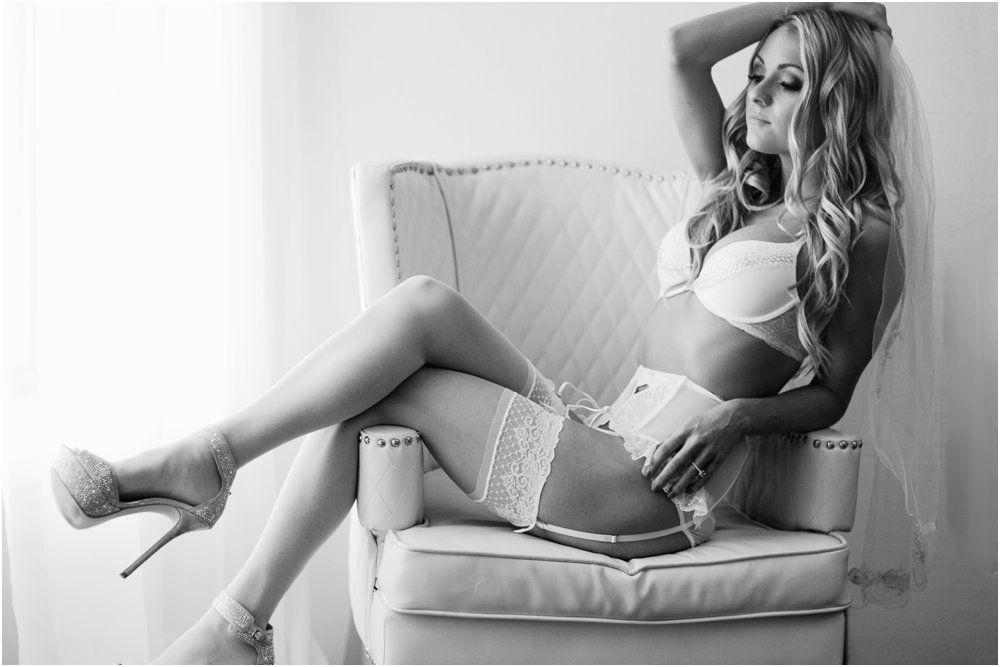 Speaking of trench coat, don't be afraid to bring some accessories.  Everything from a lace robe, to a trench coat, leather jacket, kimono, blazer, oversized night shirt or cozy cardigan.  These things are fun to use to play up different outfits that you're already using, or to use all on their own!  It just adds that little something extra and these are things that you likely already have in your closet.  One of these could even be a signature thing that you wear all the time and will fit your personality perfectly!  On a side note – in the way of "accessories" as far as jewelry goes – I'm always a less is more girl.  For boudoir I love dainty necklaces to accentuate the neckline, simple and clean bracelets, or small studded earrings are perfect!  No need to overthink this!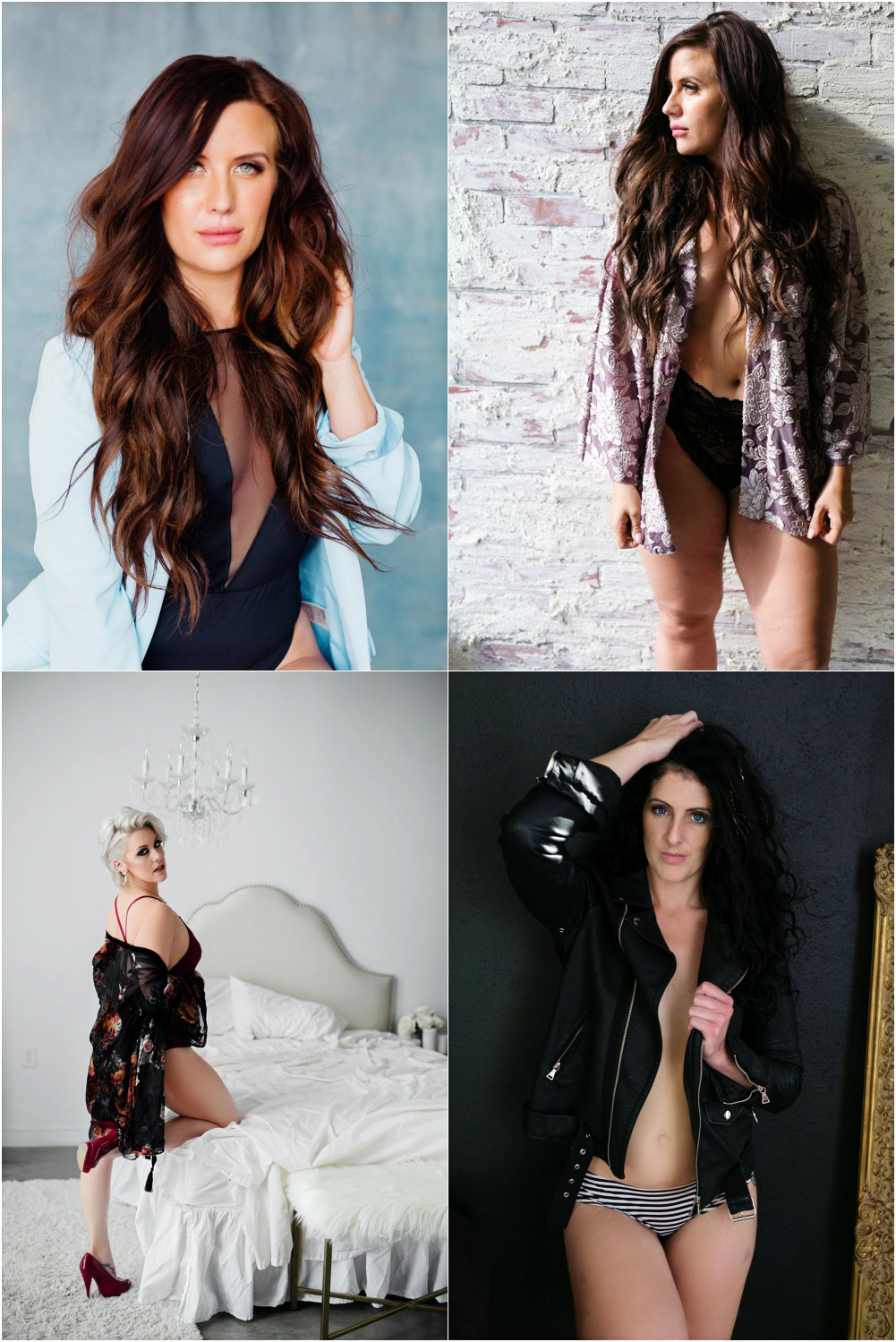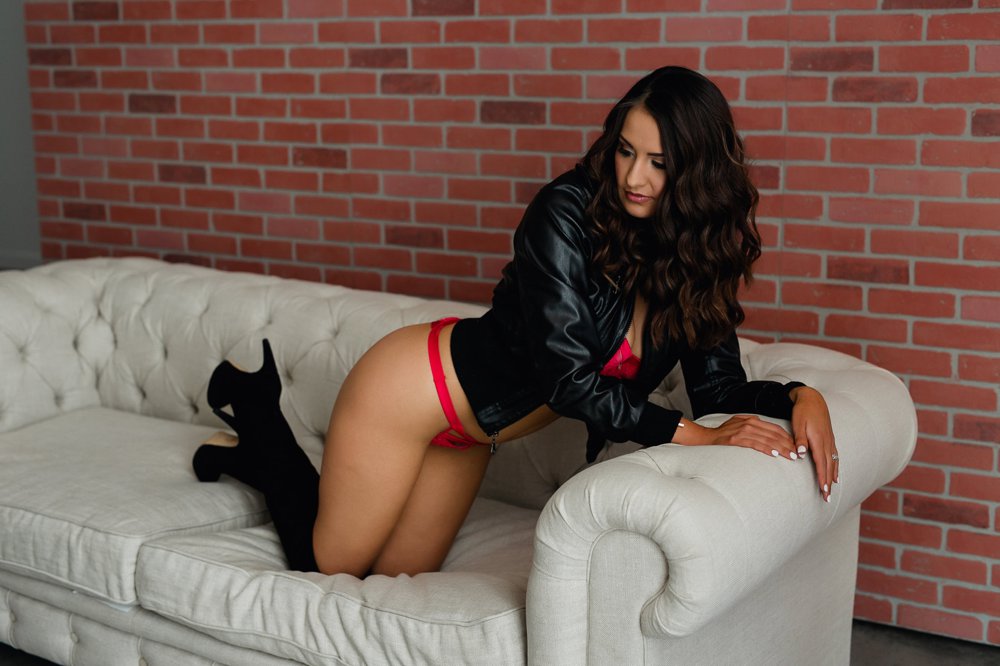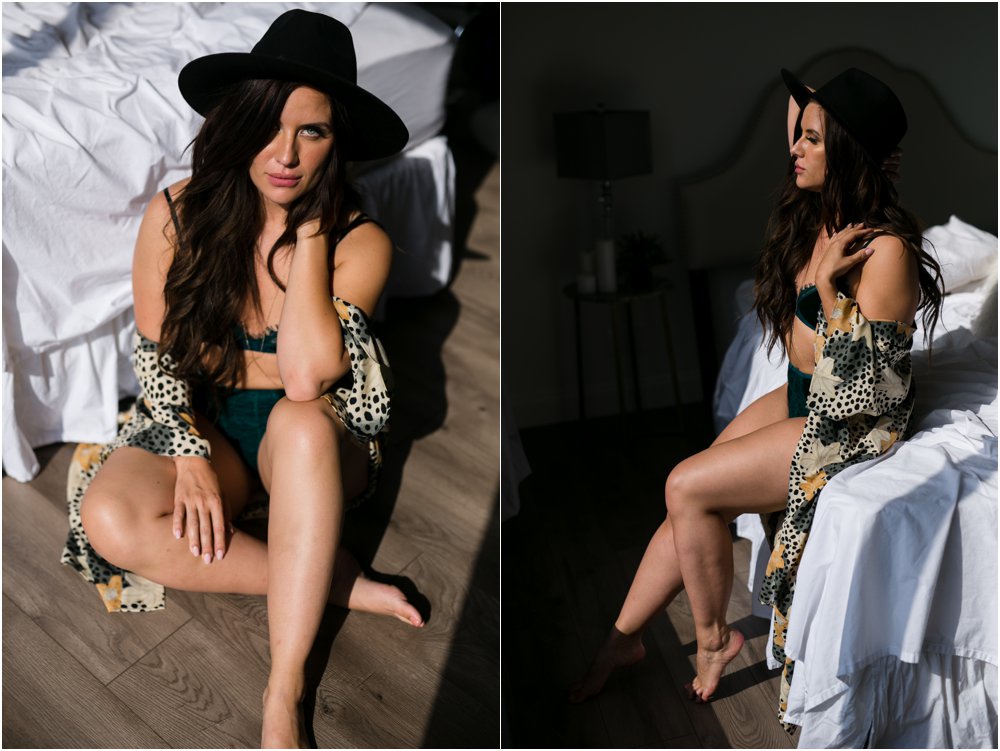 Calvin Kleins – because #mycalvins – Calvin Kleins can lend themselves to a more sporty or casual look – and it's still equally sexy. Another classic that just doesn't seem to go out of style.  
(His) white button down.  Have you noticed a pattern here?  I'm all about the classics, things that will stand the test of time – and wearing nothing but his oversized button down shirt has "I belong in a romantic comedy" written all over it.  It's perfect for incorporating something sentimental without covering you up completely with a bulky, oversized top.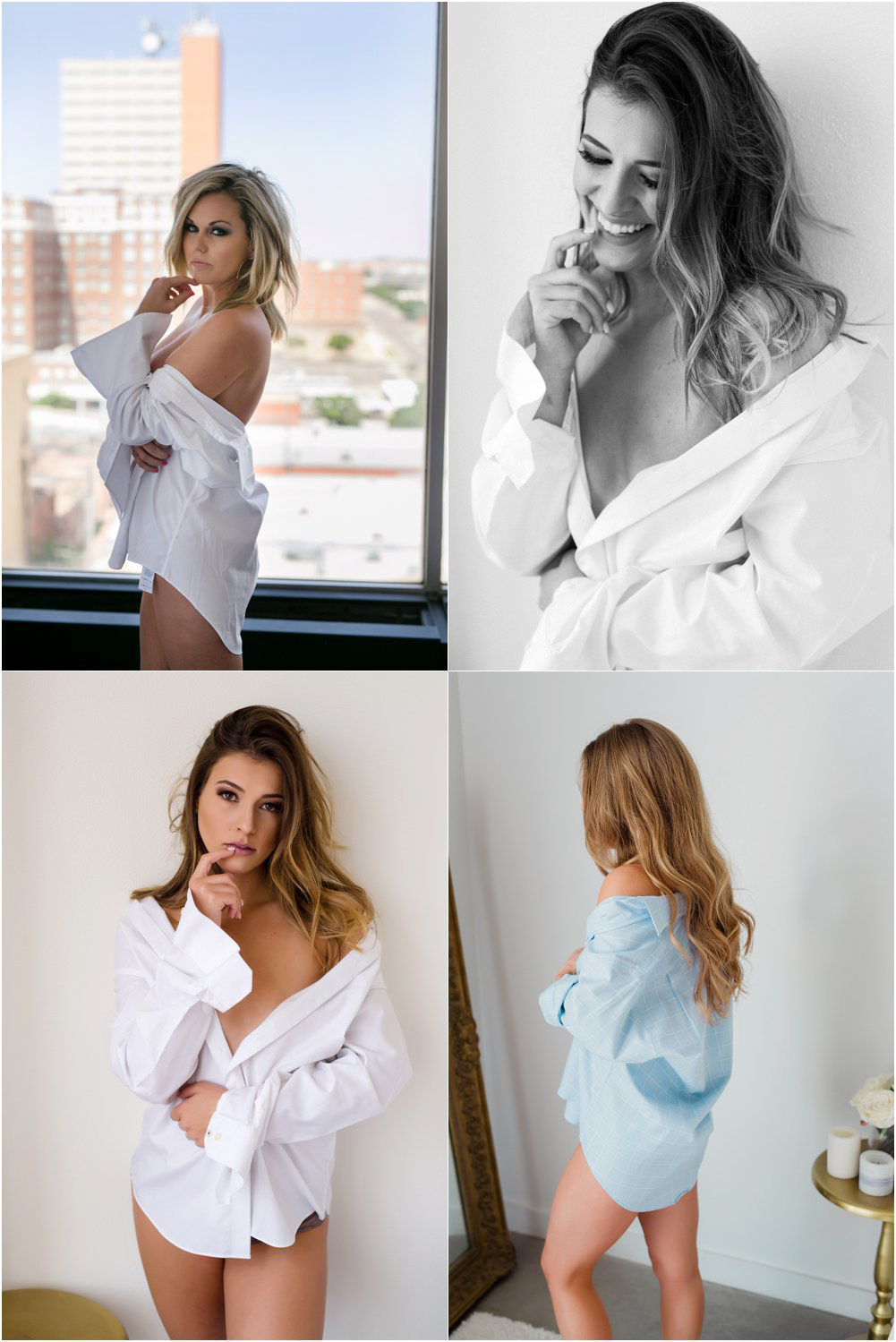 Heels – Yes they really do make that much of a difference.  I get it. I'm 5'10".  I wear heels MAYBE once a year.  But for boudoir, where I want to look my ABSOLUTE best no matter how much it hurts? Haha, I'm putting on the dang heels!  Sure we'll do plenty of shots completely casual and barefoot!  But for almost any standing shot, and full length shots – heels will do the work for you!  They elongate the legs, and they just turn the "sexy" up a notch!  I don't care if you have to dig them out of the back of your closet or go buy a basic pair at Wal-Mart, absolutely positively bring a pair of heels!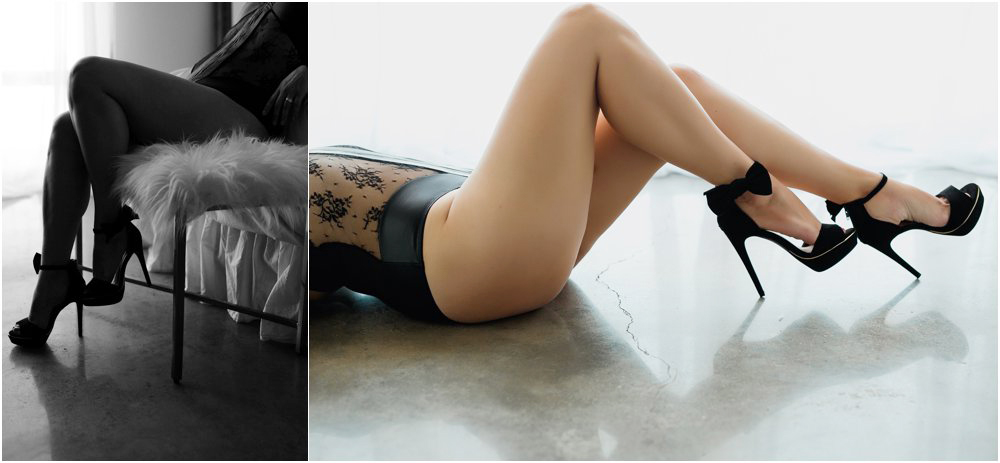 Last but CERTAINLY not least – the one thing literally EVERYONE has that they can choose to shoot in for their boudoir shoot is Nothing at all (wrapped in the Sheets).  I realize it sounds way too simple – But I'm telling you right now – if you choose to shoot in nothing but the sheets they will likely turn out to be your absolute favorite photos from the entire shoot.  There is something so effortless, beautiful and so sexy about the sheets!  It's real life!  And it leaves enough to the imagination to keep things classy!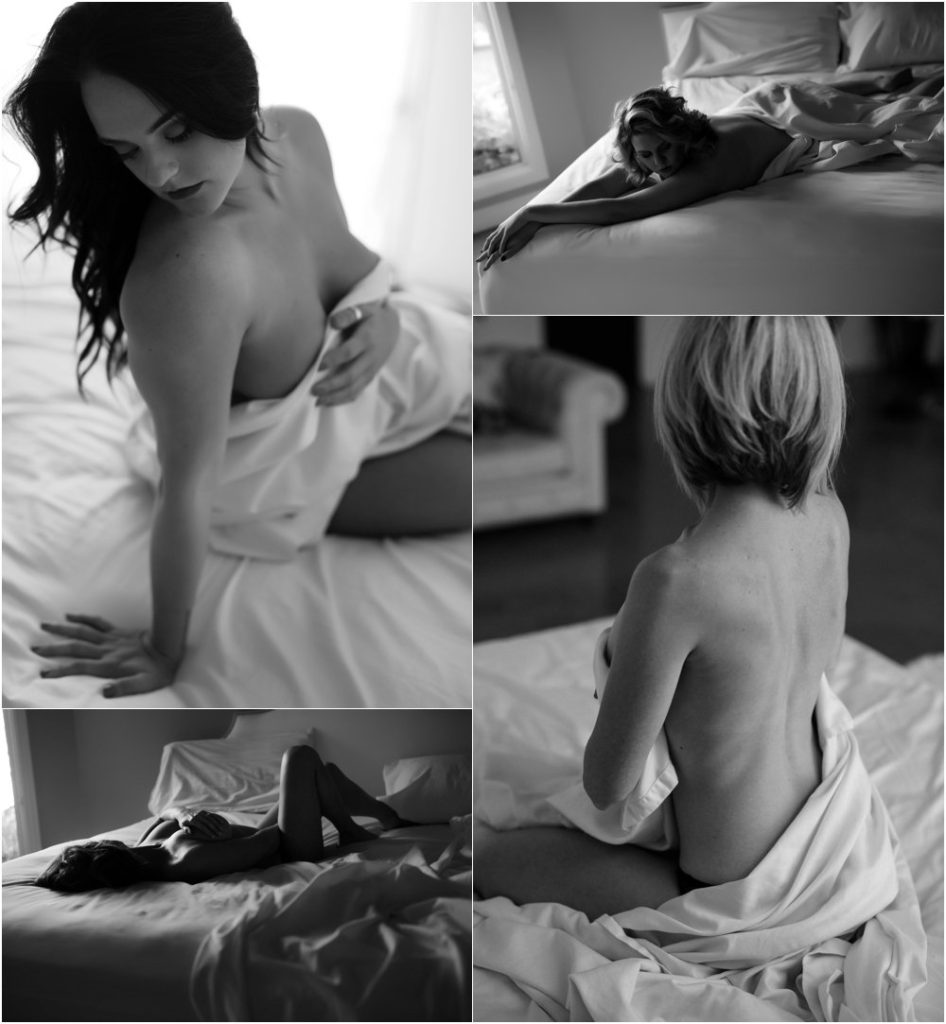 I hope this helped you see the many possibilities there are for AMAZING boudoir photos! Now you know what to wear for boudoir photo shoot! You really don't have to overthink it! And you can be just like every other girl and show up with your entire closet because you just couldn't choose and I'll help you pick the best outfits! 🙂  I'm so excited for you to experience this empowering shoot!  As always shoot me an email if you have any questions! I'm more than happy to help!
BONUS!
Here are a few of my favorite places to find great lingerie for your boudoir session! Some budget friendly! Some if you're ready to splurge! 😉
I've even had girls have great luck with ordering from AMAZON!  I created a list of items that clients have worn before, as well as some others that just looked like they would photograph great! HERE!
For more inspiration visit my pinterest page here!